US and China's Audi Q7 e-Tron Plug-In Hybrid Will Run on Gasoline Instead of Diesel
It is apparent that not a single diesel hybrid can be found in the North American market.
However, diesel enthusiasts are all abuzz and raring to drive the Audi Q7 e-tron plug-in hybrid of quattro diesel. It seems hard-core enthusiasts want to own the car at all cost.
Unfortunately for them, the diesel hybrid, which just had a formal launch at the recent Geneva Motor Show, will be only available in some countries in Europe. Both China and North America will be given the responsibility to sell the gasoline plug-in hybrid car of Audi in their areas.
This announcement was made through the Automotive New Europe, a popular industry trade journal. It was able to confirm the news with Ulrich Hackenberg, the product development head of Audi.
Instead of having the European version's 3.0-liter TDI V-6 turbodiesel, the US version Q7 e-tron will utilize a 2.0-liter turbocharged gas 4-cylinder engine with a modular hybrid system.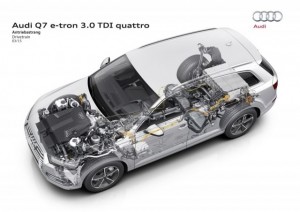 Hackenberg offers the suggestion that Audi must not close its doors when it comes to offering North America the diesel Q7 plug-in hybrid, since the brand has been successful with its diesel models in the country.
Audi will make an analysis of the US market to see if there is a demand for its car.
Audi just modelled itself after Volvo when it swapped the gas engine into its Electric vehicle hybrid model for North America. Volvo found great success as an electric vehicle maker in Europe with the Volvo V60 diesel hybrid wagon.
But for the United States, its latest 2016 twin-engine Volvo XC90 T8 plug-in hybrid SUV will be fitted instead with a turbo-charged and super-charged 2.0-liter 4-cylinder gasoline engine.
With the exception of the diesel-powered Chevrolet Cruze, the sales of which has been extremely low and displayed a disappointing performance overall, SUV passenger cars and those that are powered by diesel in the United States are limited to German-made cars and Jeep.
Diesel fuel can now be found in more or less 60 percent of the existing fuelling stations in the country. However, in half of them, diesel will not be found in the main pump ranks. It is a fact that can frustrate a good number of drivers who only want the most convenient means to power their cars. At this time, diesel fuel is considered an expensive commodity. It is over $1 a gallon more expensive than the gasoline fuel in most US states. This makes the economics and profitability that come with its use highly doubtful.
A small number of plug-in Audi Q7 hybrid models are likely to be sold in the United States. This is apart from the fact that the model is considered as a low-volume car of the brand. Hence, not a few is betting against the success of any diesel plug-in hybrid cars within the North American region.
In spite of the predictions of many experts familiar with the subject, it does not follow that diesel advocates will avoid a push for the model.