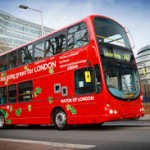 Business Green reports London's public transport can now boost batteries wirelessly at bus stops.
As London's green buses receives another boost, that is, the capability to be able to charge their batteries at bus stops, is currently being tested.
Four specially designed Alexander Dennis Enviro400H E400 buses have the diesel-electric hybrid engine, which will have the capability to be able to boost their batteries while at rest at bus stops that are specially provided with charging stations…all done wirelessly.
These 4 buses will operate next year, running the route on Stagecoach-operated Route 69 between the towns of Canning and Walthamstow bus stations. Both stations will have the inductive wireless charging equipment.
While no mention of fuel cost, pollution, and projected carbon emission were mentioned, this new technology is mentioned to allow these 4 buses to be able to operate for a significant period of time while in passenger service mode.
According to TfL, Transport for [...]