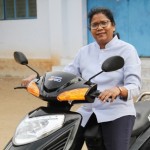 Over the next two decades, it's expected that the number of electric vehicles worldwide will double.
The majority of this growth is expected to come from highly populated countries such as China and India, where having your own private vehicle is a relatively new thing due to their struggle keeping up economically with more  developed Western nations.
However, both of these countries already have severe issues with air pollution- everyone suddenly being able to afford a car could be a huge disaster.
The city government of Dehli in India is already considering a plan of action to keep half of the cars at home on alternating days.
Introducing Ampere Vehicles…
Southern India is home to the town of Coimbatore, where couple Hemalatha Annamalai and Bala Pachyappa are developing simple and affordable electric vehicles as transport for rural drivers.
Hemalatha, 47, is the CEO and founder of Ampere Vehicles Private Limited, which specializes in load carriers, electric [...]