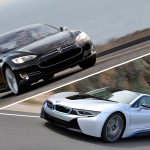 The Tesla Model S was always a vehicle ridiculed by many critics, particularly lovers of traditional diesel-pumping muscle cars. There never was much love an electric vehicle in the US or even in the UK but the Tesla Model S has stuck through the test of time and is now of the best vehicles in the market.
To put that statement to the test the vehicle was recently pitted against the diesel-running Mercedes-Benz S550. Both vehicles have similar specs except for the fact that one runs on electricity and the latter runs on fuel.
The Tesla Model S has an electric engine that cranks out 416 horsepower and 443 lbs-ft of torque. The Mercedes-Benz S550 uses a 4.6L V8 engine that gives out 455 horsepower and 516 lbs-ft of torque. Both cost just above $90,000 and are both heavy sedans.
It was with the performance tests that showed how the cars differ.
In the initial [...]