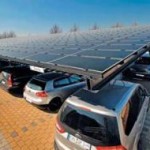 The launch of a 45kW "car shade" installation in NSW coastal shire of Ballina off the southern part of Byron Bay in Australia also inaugurated the first solar-powered public electric vehicle (EV) charging station in the continent.
Set up at Knockrow tourist attraction of Macadamia Castle, the PV/EV charging station is known to be the first on the Pacific Highway. Moreover, on the Far North Coast, it is considered one of the biggest solar installations.
The 45kW solar system was built by Smart Commercial Solar and highlights 180 PV panels structured on a purpose-built car port. This solar installation will produce energy for half of Macadamia Castle and at the same time, power up electric-run vehicles of visitors.
Tony Gilding, owner of Macadamia Castle, initially thought of placing solar panels on the castle roofs, but the surrounding trees made it difficult to do so. As a substitute, Smart Commercial Solar suggested a solar car park [...]