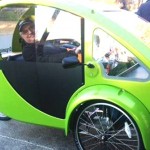 According to the creators of the Elf vehicle, this interesting looking car-bike hybrid is the future of clean urban transportation.
With an outer shell similar to the shape of an egg, the Elf looks somewhat like an inverted tricycle.
The vehicle combines solar energy charging, battery power and propulsion with pedals, making it the perfect compromise for transportation.
The low carbon Elf vehicle is three-wheeled and enclosed, however when you look inside there are no floorboards or doors.
Organic Transit, and start-up launched by Rob Cotter two years ago, sells, builds and designs the "electric, light and fun" Elf vehicle, which was recently displayed at the Consumer Electronics Show in Las Vegas.
Craig Sparks from Organic Transit said that the company believes in "human-powered mobility".
"This [the Elf] is a town runner. You can run your errands, go to the grocery store. You don't need a car."
According to Mr Sparks, the Elf is "street legal' [...]