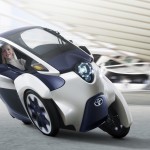 The Toyota i-Road is an electric vehicle combining the best aspects of cars and motorbikes into one futuristic (and fun) model.
The idea of the vehicle was developed by combining the convenience of a motorbikes compact size, and the safety and stability of a car.
The small size makes it easy to zip around cities and to park in confined spaces, at just 870mm wide and weighing a mere 300 kg.
However unlike a motorbike, there is no fear of getting wet in the rain or being easily injured, thanks to the enclosed comfort and body construction similar to a car.
This electric vehicle has zero C02 emissions, making is extremely environmentally friendly. It is powered by lithium-ion batteries that can withstand about 50km of travel on the one charge, based on a speed of 30km per hour.
The driving experience is unique as drivers have the enjoyment of two-wheeler riding, a small turning circle [...]