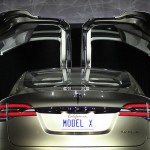 The Tesla Model X may take a while before it hits the roads but the world can have a glimpse on what it can offer.
Most car industry insiders know that this car will share a platform with Tesla's current Model S sedan. It will also be fitted with roof-hinged falcon doors which will give it a virile and robust look.
But most car enthusiasts won't suspect that the Tesla Model X has a secret, and a good one at that: the car is equipped with enough power that it can tow another vehicle.
This battery electric vehicle will be available with a factory-installed hitch. It is going to be the first time this is done for a car in this class. Most other electric cars are offered aftermarket hitch kits.
When Tesla Motors informed car reservation holders listed on the Tesla Motors Club forum (through Clean Technica) about the car model's production delay, the [...]